How Can You Get a Credit Report?  You can get a free credit report every year from Experian for free.  Below are step by step instructions on how you can get a credit report.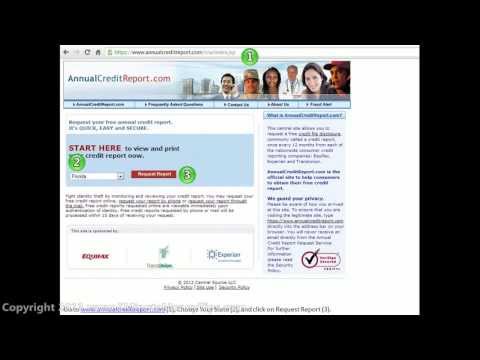 Sign up for my newsletter and I'll send you a yearly reminder to check your Experian Credit Report.  
A Step By Step Guide To Requesting Your Experian Credit Report
Hi. This is Jake Posey with 5MinuteMoneyTips.com. Welcome to episode one, How Can I Get a Credit Report or specifically, A Step-by-Step Guide to Requesting Your Experian Credit Report.
Every year I teach a personal finance class and about three years ago I had a student come to me. One of the assignments that they were required to complete was to go to annualcreditreport.com and pull one of their credit reports. When she came to me, she was crying. She completed the assignment.   She didn't have any credit history, or so she thought, because she was about 18 years old. When she came to me she said, "There's a lot of different accounts opened under my name." It just so happened that her identity had been stolen and someone has been opening up credit card accounts under her name. The great news is that she checked those credit reports could start fighting this.  She could start challenging those accounts that were opened, getting those closed and clearing them from her report.
It's very important that once a year you go out and you pull your free credit report from each of the credit agencies. So let's get started today. The first thing you're going to do is you're going to go to annualcreditreport.com. This is a government website that requires the three major credit agencies to allow you to pull your credit report once every year. If you're wise about this you're going to go out and pull your Experian credit report this month and in four months you're going to pull your TransUnion credit report and then in another four months you'll pull your Equifax credit report. This will allow you to monitor your credit throughout the year.
Today we'll pull the Experian credit report. I'm going to choose the state that I live in here and I'm going to click on request report. Next I'm going to go and I'm going to fill out my personal information. This is going to be a little bit scary because they are asking for some very personal information from you. They're asking for your name, your first name and your last name. If you're married go ahead and give your married name.  Next you will provide your date of birth and your social security number. Provide all that information, this is over a secure connection. Next we are going to check this box if you want to hide your social security number. Go ahead and check that and whenever you print out your credit report, only the last four digits of social security number will show up.
Enter in your current address and then come down here. If you lived at your current address for at least two years leave that yes, if not, click on no and enter your previous address in here. Then go ahead and type in these letters that you see here on the screen.  You letters will be different on your screen.  Click on continue. That's going to take you out here to a screen where you can choose which credit report you want to go to.
Today we're going to go to Experian. Once you to click on this, it is going to tell you how you can come back here to annualcreditreport.com. Click on next and then you're going to come here and your last four digits are going to be shown or you'll need to type them in there. Either way, go ahead and make sure that they're correct and click on submit.
Then it's going to give you a little tip. In this case it's telling you a marriage tip. Go ahead and read those. Any tips that you get are always good. Click on annual credit report. Notice here on the Experian they're going to show you that your credit report is free, and then click on submit. If you come to this screen and it's been less than a year since you've ordered your last one it's going to charge you for it so you want to go ahead and check this only once a year.
Ten it's going to give you some identity verification question. These are often called "out of wallet" questions.  Experian is pulling information from your credit report and they're going to ask you questions about it. If you have a previous year's credit report, go ahead and grab it.  That will allow you to answer this more accurately.
These can be pretty tricky sometimes.  In this case, the last four digits of my primary checking account number. I have to go grab one of my checks for that. Next, it asks the state that my social security number was issued in. in the past, they have asked me about mortgage information, car loan, amount of car loans, amount of mortgages. They're going to be pretty tricky when they're asking you so pay special attention. If you don't answer these questions correctly, you're going to have to write in and have your credit report mailed to you instead of being able to pull it that day online.
Answer your question and click continue.  You will be taken to your reports summary. At this point you have your free credit report.  It's going to tell you when you pulled your credit report. Make sure you print your report.  If you are going to save your report in PDF format, I recommend putting password protection on the file as well.
You have a lot of information you can read here. Notice if there are any potentially negative items so they will give you a link to see those negative items right away. If you need to dispute items they're going to give you a link. These different websites have a lot of great information throughout the site so I encourage you to click around and read through these sites.
You have successfully pulled your Experian credit report. You know what to do. You know what to expect when coming here. So your next step is to review your report and check if there are inaccuracies. If you've had credit for a long time it's going to be many pages. Mine is about 30 pages long. If you haven't had credit for a long time it's going to be pretty short. Either way, you should look at all the accounts. Make sure all the account numbers match up with what you expect to have in there.
Make sure that no one has opened any accounts under your name. You're making sure that all your payments made it there on time and that the payments are showing up accurately. Companies make mistakes so it's pretty easy to go ahead and dispute the dings on your credit.  Make sure that you check your report for inaccuracies and any accounts that you do not recognize.
Then go to 5MinuteMoneyTips.com, sign up for my newsletter and I will give you a yearly reminder to get your Experian credit report.  That way you don't have to worry about it.  Thank you for joining me today. I look forward to hearing from you at 5MinuteMoneyTips.com.
Sign up for my newsletter and I'll send you a yearly reminder to check your Experian Credit Report.  
Related Articles