The stock market continues to hit new highs in 2013.  The market goes up and down and makes you dizzy trying to figure out how do you plan for retirement in a market like this?  To complicate matters, you have a boatload of cash in your retirement account and you are asking yourself, "When should I invest in the stock market?"
How Do You Plan for Retirement When The Market Is At Record Highs?
According to CNBC, the S&P 500 climbed 1% to reach a high of 1650.34 on May 13th with Financial Companies leading the way (i.e. Banks).  Businesses owners are optimistic, yet cautious, about the outlook on the economy.  Enough with the boring stuff!
If you are more than 15 years from retirement, none of this should matter to you.  Why? You need the growth of stocks to reach your retirement goals.  Compounding your investments to double your money time after time is necessary to reach retirement with sufficient money to avoid saying "Welcome to Wal-Mart."
The Answer To Your Question…
You asked, "When should I invest in the stock market?"  The answer is NOW as long as retirement is more than 10 years away.  Why 10 years.  Historical returns (see chart below) show that there have only been 4 years that did not produce a positive 10 year return.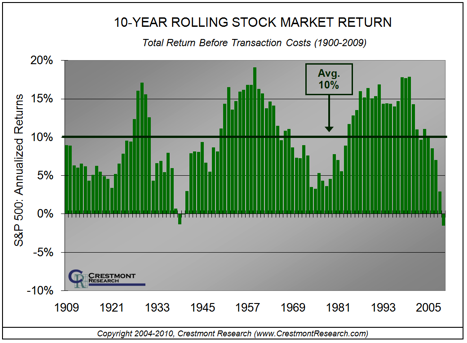 How Do You Plan For Retirement – A Step-by-Step Guide For When To Invest in the Stock Market
Call an advisor Now!  If you are planning for your retirement, you need an advisor to help you get there.  Call your advisor and schedule an appointment.  A good advisor will help guide you on investments, like your 401k, on which he/she is not earning any commissions.  If your advisor will not help you, dump that advisor and get a new one.  If you don't have an advisor, ask your friends who they use and go with a friend's recommendation.
Dollar cost average your investments – If you have more than $5,000 cash in your retirement account, you should use dollar cost averaging to get into the market.
Rebalance every year.  Most 401k providers allow you to rebalance automatically every year.  If you can automate this, do it!  If not, send an email to every6amMar30@followupthen.com  and you will receive an yearly reminder to rebalance your account.
Ignore the news.  Now that you have taken steps to move forward, stick with your plan.  Don't let fear creep back in and wreck your plans again.
Parting Words
Sometimes we need extra guidance to get to where we are going.  That's okay.  If you have a pile of cash in your retirement account, I want you to close this browser, pick up your phone and call your advisor to get started.
If you have been burned by greed or fear in the past, post a comment to let us know about it.  The best way for us to learn and plan for retirement is to hear others' stories.
Related Articles